Destiny's Child Reunites At The Stellar Gospel Music Awards For Their First Performance Since The 2013 Super Bowl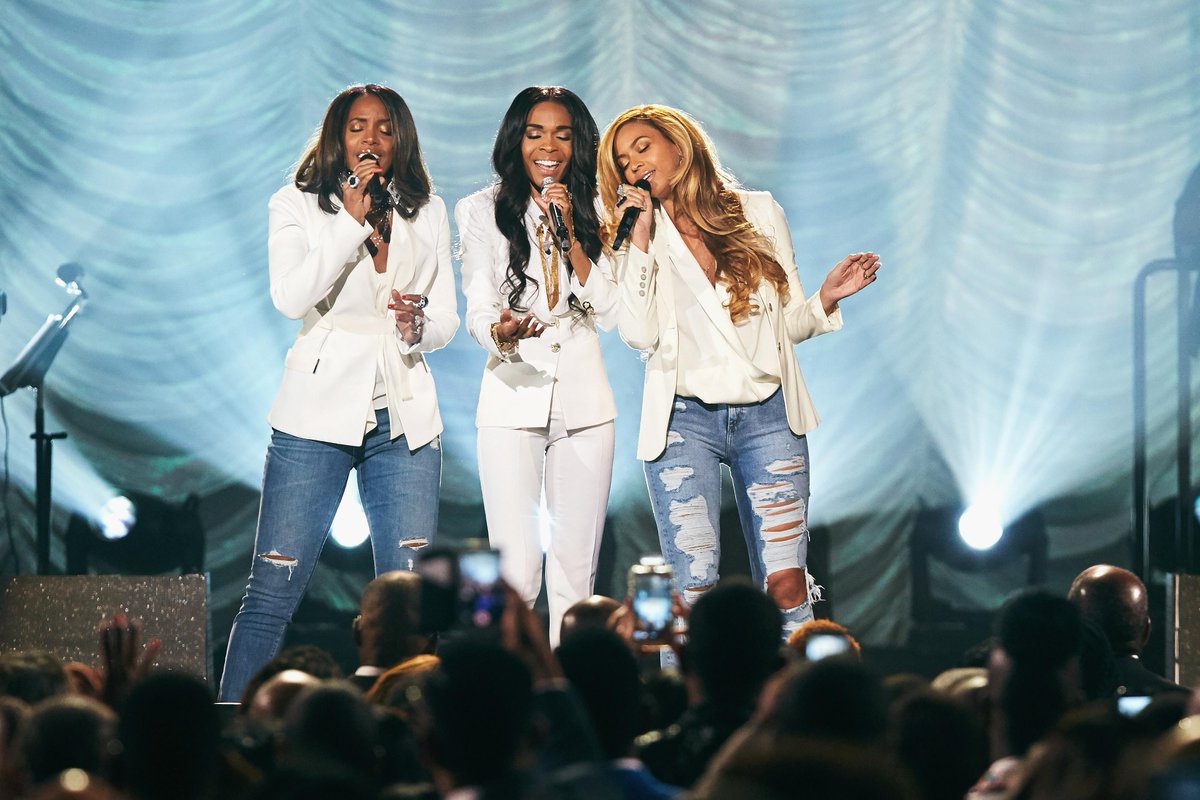 After going roughly two years without performing together on the same stage, Destiny's Child reunited Saturday night (March 28) for a surprise performance at the 30th Annual Stellar Gospel Awards in Las Vegas.
Michelle Williams, dressed in all white, took to the stage singing "Always Remember Jesus" while two women wearing white blazers and jeans began to harmonize as the stood behind her. Once they turned around, the crowd realized it was everyone's favorite trio and gave them a warm welcome.

Live at the #30thStellarAward #Beyonce #MichelleWilliam #KellyRowland kicking off the show. My floor seats are amazing. Favor @msmanunu must be jealous right now lol jk!
Reuniting for the first time since Beyonce's Superbowl performance in 2013, the group then transitioned into William's latest single "Say Yes" which took home "Video of The Year", making the award a first for Williams.
Die-hard fans speculated that a reunion may be coming sooner rather than later when Williams posted a cryptic tweet Friday evening.
"I thank all of you guys who voted! Man this is incredible!!!!" she wrote before including some interesting hashtags. "#StellarAwards30 #VideoOfTheYear #SayYes #Beyonce #KellyRowland" Perhaps the signs were there all along!"

Finally I can say something! Rumors were true! Destiny's Child was in the buliding #StellarAwards
Regardless, the exciting reunion comes more than two years after the ladies rocked the house at the Super Bowl halftime show. Who can forget when they sang "Bootylicious," "Independent Women Part 1" and "Single Ladies" in a matter of minutes?!
While viewers were left captivated, Williams later shared that it just felt good to perform again with her BFFs. "When three good girlfriends are together, you're free and you don't care who's around," she shared. "You're just trying to catch up and be goofy. I had a blast."
Make sure to watch the Stellar Gospel Music Awards on Sunday, April 5, 2015 on TV One.

The presence of the Lord was definitely at the Stellar Awards last night! I was so happy to have my sisters @kellyrowland and @beyonce join me on stage to perform "Say Yes" for an amazing crowd. I really hope that this performance touches and heals someone. Nothing like old times! The Stellar Awards air next Sunday on TVOne! SayYes #DC3